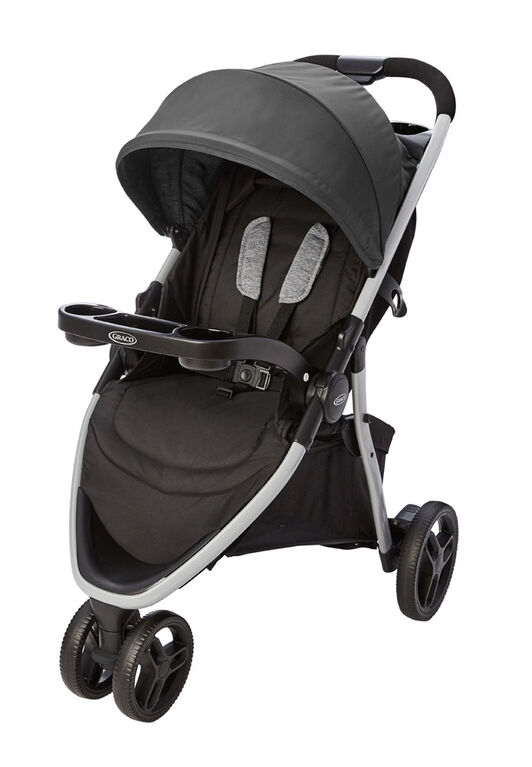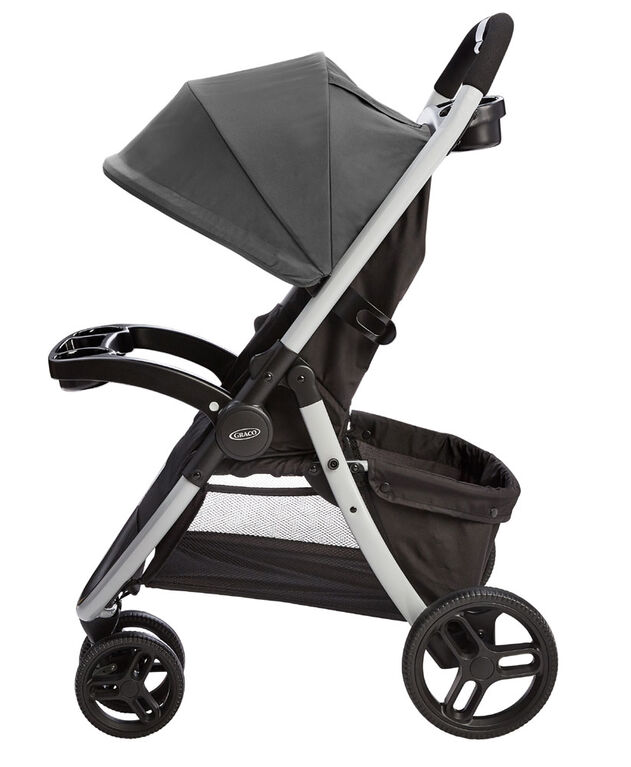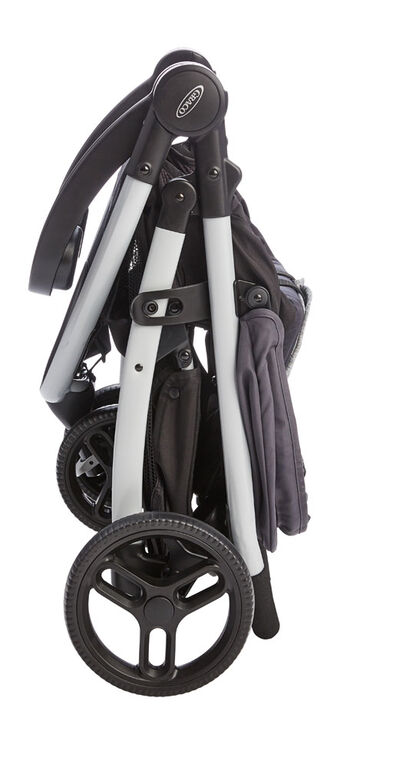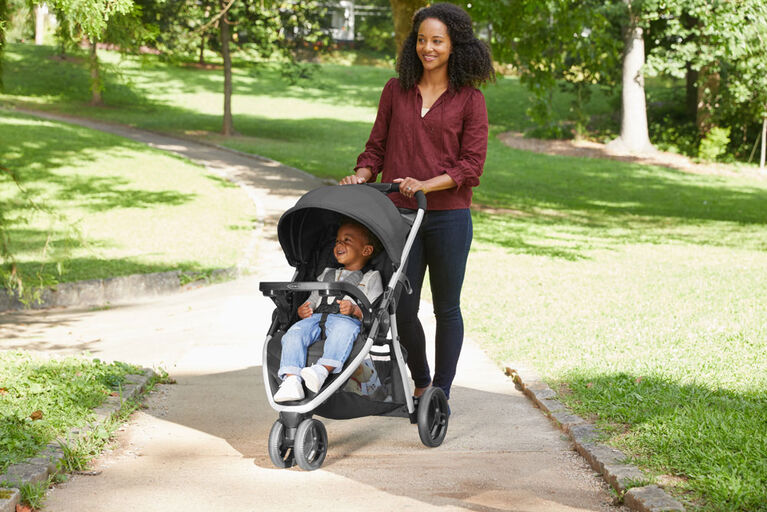 Set the pace for every adventure with the Graco® Pace™ 2.0 Stroller, a nimble 3-wheel stroller that makes it easy to stroll anywhere. The stroller accepts all Graco infant car seats, and features a one-hand, self-standing fold for easy storage and transport.


3-wheel design for easy maneuverability on all your strolls
Accepts all Graco® infant car seats
One-hand, self-standing fold
Child's tray folds down for a more compact fold
Parent's tray with cup holders
Additional Information
SKN: 447760
ID: 44B52864
UPC: 47406177509
Brand: Graco
MFR Number: 2143035
Ship to Quebec: Yes
Maximum Order Quantity: 5
Registerable: Yes
Language: Bilingual
Gift Wrap: Gift wrap is not available for this item
Assembly
Item Height: 30.83 inches
Item Length: 19.53 inches
Item Weight: 20.86 lbs
Item Width: 11.42 inches
<!--begin-bvseo-reviews--> <!--begin-reviews--> <div id="bvseo-reviewsSection"> <div class="bvseo-review" itemprop="review" itemscope itemtype="http://schema.org/Review" data-reviewid="187435120"> <span itemprop="reviewRating" itemscope itemtype="http://schema.org/Rating"> Rated <span itemprop="ratingValue">5</span> out of <span itemprop="bestRating">5</span> </span> by <span itemprop="author">Bethany W</span> from <span itemprop="name">Awesome stroller, highly recommend</span> <span itemprop="description">Highly recommend this stroller. Nice and light, and super compact when folded up. Our Graco infant carseat clicks in so easily, and is so secure. This thing turns on a dime! Love love love it!</span> <div class="bvseo-pubdate">Date published: 2021-09-17</div> <meta itemprop="datePublished" content="2021-09-17" /> </div> <div class="bvseo-review" itemprop="review" itemscope itemtype="http://schema.org/Review" data-reviewid="210007368"> <span itemprop="reviewRating" itemscope itemtype="http://schema.org/Rating"> Rated <span itemprop="ratingValue">5</span> out of <span itemprop="bestRating">5</span> </span> by <span itemprop="author">Lexinicole</span> from <span itemprop="name">Baby was content!</span> <span itemprop="description">I bought this Friday and on Saturday we went to a very large zoo in Ohio (we live in NY). The stroller folds down small enough to fit in the trunk of a sports car, and the ability to fold down is extremely convenient and simply that I can hold my son while collapsing it. It also unfolds just as easily which for a single mom who does most things alone is super helpful! The baby loved how he could sit up so tall and the straps sit nicely for my sons size. The three wheel layout takes on bumps and uneven ground much better than our four wheel stroller. The whole stroller is designed for ease of use, the fabric is easy to clean off any mess from a baby and the detachable tray table makes sitting with everyone at the table much easier. The cargo space below holds my diaper bag and still has more space for other things. Overall this is an amazing stroller especially when the price is not hurting the bank account.</span> <div class="bvseo-pubdate">Date published: 2021-08-15</div> <meta itemprop="datePublished" content="2021-08-15" /> </div> <div class="bvseo-review" itemprop="review" itemscope itemtype="http://schema.org/Review" data-reviewid="207581058"> <span itemprop="reviewRating" itemscope itemtype="http://schema.org/Rating"> Rated <span itemprop="ratingValue">4</span> out of <span itemprop="bestRating">5</span> </span> by <span itemprop="author">Anonymous</span> from <span itemprop="name">Pace 2.0 stroller</span> <span itemprop="description">[This review was collected as part of a promotion.] Hello, I&rsquo;m here to review the Pace 2.0 Stroller. I&rsquo;m going to list the pros and cons of this stroller:) Pros- * I really liked this stroller because I think it&rsquo;s pretty basic and easy to figure out. * opening and closing the stroller is super easy and it really only takes one had to do it, which is super handy because as a mother your hands are usually full! * This stroller is really easy to push and control with one hand. * putting it together was simple and quick * this stroller is a great stroller for the price tag :) * This is a great stroller if you are pushing it around neighborhoods, downtown, in the grocery stores, pretty much anywhere unless you are camping in the woods. * I feel like the stroller is really well made, and will last for a long time. * The stroller folds up super easy and quick, it&rsquo;s quite small and doesn&rsquo;t weigh a lot. * getting the stroller in and out of your car is easy because it folds nice and isn&rsquo;t too heavy. * I have this stroller in the back of my car all the time because it&rsquo;s easy to take in and out and it&rsquo;s not giant and taking up tons of space. * it&rsquo;s a smooth ride for the little ones to sit in * this stroller has plenty of storage to being diapers, snacks, blankets * it has a nice tray that comes with the stroller which is always helpful Cons- So far so good, I don&rsquo;t really have many cons as of right now. * maybe have the seat where the baby or toddler sits be a little more plush with cushion. * I wish the canopy would go down more so it could cover the child a little bit more * I would like the seat to go back further for baby to lay down or lay back more. As of right now this is how I feel and so far so good, not many cons with the review. I received this product because I&rsquo;m a part of the Stellar Products reviewing panel. so far so good with this stroller :)</span> <div class="bvseo-pubdate">Date published: 2021-05-12</div> <meta itemprop="datePublished" content="2021-05-12" /> </div> <div class="bvseo-review" itemprop="review" itemscope itemtype="http://schema.org/Review" data-reviewid="209131828"> <span itemprop="reviewRating" itemscope itemtype="http://schema.org/Rating"> Rated <span itemprop="ratingValue">5</span> out of <span itemprop="bestRating">5</span> </span> by <span itemprop="author">Anonymous</span> from <span itemprop="name">Great stroller!</span> <span itemprop="description">[This review was collected as part of a promotion.] I received this stroller to test from stellar product panel. I was unsure how I would feel about it because I have never owned a 3 wheeled stroller. However, I was pleasantly surprised! It maneuvers very smoothly, is lightweight, and very easy to fold. It was average size when folded and easy to store in my small suv while on the go. The design is sleek and modern, and easy to clean! Absolute favorite part of this stroller is that it can be collapsed with one hand, making it perfect for a busy family like mine.</span> <div class="bvseo-pubdate">Date published: 2021-05-12</div> <meta itemprop="datePublished" content="2021-05-12" /> </div> <div class="bvseo-review" itemprop="review" itemscope itemtype="http://schema.org/Review" data-reviewid="209131827"> <span itemprop="reviewRating" itemscope itemtype="http://schema.org/Rating"> Rated <span itemprop="ratingValue">5</span> out of <span itemprop="bestRating">5</span> </span> by <span itemprop="author">Anonymous</span> from <span itemprop="name">Great single stroller!</span> <span itemprop="description">[This review was collected as part of a promotion.] If you're looking for a great single stroller for a low price then this one is it! I love the design of the chair and the three wheel feature. Makes for easy maneuvering around tighter spaces. The large basket underneath is also very helpful. The one-handed fold that was promised is easier than I expected it to be! I was able to collapse in no time at all. The amount of space this stroller takes up was very minimal, which is exactly what I need for a crowded garage! I just love that this stroller is so sleek for such a low price. Most of the time you have to sacrifice something like looks for good features but this stroller has it all! Thank you Stellar Product Testing Panel for providing me this stroller!</span> <div class="bvseo-pubdate">Date published: 2021-05-10</div> <meta itemprop="datePublished" content="2021-05-10" /> </div> <div class="bvseo-review" itemprop="review" itemscope itemtype="http://schema.org/Review" data-reviewid="207436544"> <span itemprop="reviewRating" itemscope itemtype="http://schema.org/Rating"> Rated <span itemprop="ratingValue">5</span> out of <span itemprop="bestRating">5</span> </span> by <span itemprop="author">Dee823</span> from <span itemprop="name">Quality stroller at an affordable price</span> <span itemprop="description">[This review was collected as part of a promotion.] I received this from the Stellar Product testing program to try and review with my own personal experience. Let me start out by saying that this is quite a great stroller for what you&rsquo;re paying. It&rsquo;s very comparable to one I have that cost almost 4x the price. The number one thing I look for in a stroller is on how the ride is for my child and how easy it is for me to maneuver. Who wants their NB on a bumpy ride when you&rsquo;re out and about right? Well this is actually a really smooth ride. We go for walks daily and out neighborhood has different terrain where we walk. It&rsquo;s been smooth thus far on paved sidewalks, natural jogging trails, grass and a few gravel trails we came across. I was able to maneuver best on the paved sidewalk of course but the others weren&rsquo;t bad at all. I also liked that it&rsquo;s not as heavy as the other one I own. I&rsquo;m not very strong so it&rsquo;s always a hassle with my other one. I can actually have my 1 yr old in one arm and be able to get this off the car with one had and set it up with no trouble. I think it&rsquo;s a really good size (not overly bulky) and it folds very easily and stays up in our garage. That&rsquo;s actually pretty important to me too bc I would hate for it not to stand up on it&rsquo;s own and it become a tripping hazard. I like the sleek design of the stroller with its silver (metal) accents. I also love that it comes with trays for baby and parent! It gives my kid a place to put their drink instead of having to hold it during our walk. And I can put my phone and actually see it in the adult caddy instead of the bottom basket. The basket is also quite spacious by the way. Overall I think this is a good stroller option to get the most bang for your buck. I&rsquo;d definitely recommend to friends and would even purchase as a gift for a new mom since it&rsquo;s very affordable.</span> <div class="bvseo-pubdate">Date published: 2021-05-06</div> <meta itemprop="datePublished" content="2021-05-06" /> </div> <div class="bvseo-review" itemprop="review" itemscope itemtype="http://schema.org/Review" data-reviewid="207433898"> <span itemprop="reviewRating" itemscope itemtype="http://schema.org/Rating"> Rated <span itemprop="ratingValue">4</span> out of <span itemprop="bestRating">5</span> </span> by <span itemprop="author">JDMiller</span> from <span itemprop="name">Great Stroller</span> <span itemprop="description">[This review was collected as part of a promotion.] I received this stroller as part of the Stellar Product Testing Panel. The opinions are my own. First off, the stroller was a bit of a pain to put together. It wasn't that it was hard, but I didn&rsquo;t expect that I would have to put the tires on myself and the directions were so-so. That being said, it is Wonderfully Light! I like how it folds up in a more square shape than a standard umbrella stroller that is long. Once you understand the direction it folds in (down towards you, instead of away, which seemed awkward) it&rsquo;s simple and easy to do. Fits great in the trunk of my Camry too. The Huge basket below is Amazing. I appreciate the cup holder for the adult pushing but felt the location was a bit awkward as my water bottle didn&rsquo;t fit nicely with the handle right there. My kids loved having their own snack/cup holder as well. It maneuvers great, very agile. I did worry about it tipping when my child leaned out over the side (she was not buckled in at the time) and we were on slightly uneven ground. Overall, for the price</span> <div class="bvseo-pubdate">Date published: 2021-05-06</div> <meta itemprop="datePublished" content="2021-05-06" /> </div> <div class="bvseo-review" itemprop="review" itemscope itemtype="http://schema.org/Review" data-reviewid="209131824"> <span itemprop="reviewRating" itemscope itemtype="http://schema.org/Rating"> Rated <span itemprop="ratingValue">4</span> out of <span itemprop="bestRating">5</span> </span> by <span itemprop="author">Anonymous</span> from <span itemprop="name">Love the one-handed fold</span> <span itemprop="description">[This review was collected as part of a promotion.] This stroller has many great features with some minor flaws. The one-handed standing fold is so convenient. I can easily fold the stroller and leave it standing next to my car while I buckle my kids into their car seats. The standing fold also makes it easier to store the stroller folded which saves space. I like to store my diaper bag in the storage basket so the large storage basket is a big plus. I also love the option to recline the stroller for times when my kids fall asleep. One thing that didn't work great for me was the canopy. When fully expanded, it's quite low and partially blocks my daughter's view so she often pushes it back up which defeats its purpose. Another small downside is how lightweight it is. I do like how it's easy to carry around and maneuver but when left unattended on a windy day, it started rolling off on its own. It was unlocked and there was no child sitting in it so it's not a big issue but it's just something to be aware of. Thank you Stellar Product Testing Panel for sending this stroller so I could try it and review.</span> <div class="bvseo-pubdate">Date published: 2021-05-04</div> <meta itemprop="datePublished" content="2021-05-04" /> </div> </div> <script type="text/javascript"> if (document.getElementById('bvseo-reviewsSection')) { document.getElementById('bvseo-reviewsSection').style.display = 'none'; } </script> <!--end-reviews--> <!--begin-pagination--> <ul id="bvseo-paginationSection"> <li class="bvseo-paginationItem"><a class="bvseo-paginationLink" href="https://www.babiesrus.ca/en/Graco%C2%AE-Pace-2.0-Stroller---Perkins/44B52864.html?bvstate=pg:2/ct:r">Graco&reg; Pace 2.0 Stroller - Perkins Reviews - page 2</a></li> </ul> <!--end-pagination--> <ul id="BVSEO_meta" style="display:none!important"> <li data-bvseo="bvDateModified">y_2021, m_10, d_25, h_18</li> <li data-bvseo="ps">bvseo_bulk, prod_bvrr, vn_bulk_3.0.19</li> <li data-bvseo="cp">cp_1, bvpage1</li> <li data-bvseo="co">co_hasreviews, tv_0, tr_75</li> <li data-bvseo="cf">loc_en_CA, sid_44B52864, prod, sort_[SortEntry(order=SUBMISSION_TIME, direction=DESCENDING)]</li> <li data-bvseo="diagnostics">clientName_toysrus-ca</li> </ul> <!--end-bvseo-reviews--> <ul id="BVSEOSDK_meta" style="display: none !important;"> <li data-bvseo="sdk">bvseo_sdk, dw_cartridge, 18.2.0, p_sdk_3.2.0</li> <li data-bvseo="sp_mt">CLOUD, getReviews, 6ms</li> <li data-bvseo="ct_st">reviews, product</li> </ul>
<ul id="BVSEOSDK_meta" style="display: none !important;"> <li data-bvseo="sdk">bvseo_sdk, dw_cartridge, 18.2.0, p_sdk_3.2.0</li> <li data-bvseo="sp_mt">CLOUD, getContent, 5ms</li> <li data-bvseo="ct_st">questions, product</li> <li data-bvseo="ms">bvseo-msg: Unsuccessful GET. status = 'ERROR', msg = 'Not Found.';</li> </ul>
SKN: 447760
Free Store Pickup
Home Delivery
Get it Fast
In-Store or Curbside: Ready in ~4 hrs.
Have it Delivered
Must be home for delivery by DoorDash
Not eligible for Same Day Delivery -
Ship it
Arrives in 6-8 business days
Currently Credit Card is the only form of payment supported for pre-orders.
Free Shipping* on Baby Gear!