Giving your baby a bath can be a bit tricky if you've never done it before. Here's an easy guide to get you through your first one.
Prep for the baby's bath
Make sure you have everything you need laid out within arm's reach before you begin so you're not fumbling mid-bath. This includes a baby bathtub, washcloths, cotton balls, mild baby shampoo, mild moisturizing soap, baby wipes, a towel, a clean diaper and a change of clothes.
Wipe down their faces
Lightly moisten a cotton ball (no soap) and wipe your little one's eyelids from the inside corner out. Use a different cotton ball for each eye so you're not moving gunk from one eye to the other. Then, clean around the outside of their nose, followed by their ears – inside, outside and behind.
Head and hair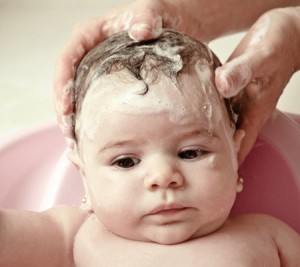 Wet a washcloth with warm water and a few dabs of soap. Carefully sit your little one up, supporting their neck while tilting their head back. Squeeze water from the washcloth on to their head, then switch hands so the one with the washcloth is supporting their body and neck while you gently massage their heads with your free hand. Don't be afraid to massage the soft spots (fontanels) – they're stronger than you think.
Body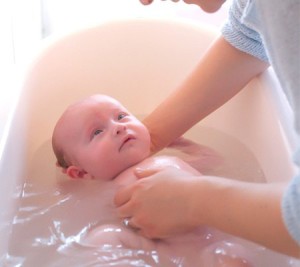 To wash their bodies, you can continue holding them if you choose, but it might be easier to lay them down on a towel or pad. Add a bit more soap or shampoo to the wash cloth and start cleaning. Pay close attention to fingers as they'll spend a lot of time in your baby's mouth.
Mid section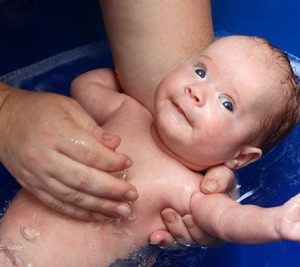 You may feel hesitant to thoroughly wash your baby's genitals for fear of hurting them. A rash from uncleanliness will hurt a lot more so don't be afraid to get in there. As you clean your baby's mid-section be sure to do it from front to back, thoroughly washing in all creases. Rinse well, as lingering soap in the area can cause skin irritation once a diaper goes back on.
Back and bottom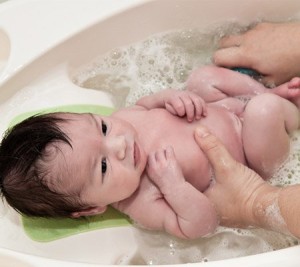 When you turn your little one over to wash their backs, be very careful to support their heads from the front. If you're going to rest him or her on a towel or mat, put one hand under their chin to keep their head up. Pay close attention to the area just under their bums, as the folds in their skin tend to accumulate diaper waste. Luckily, these deposits can be removed fairly easily.
Drying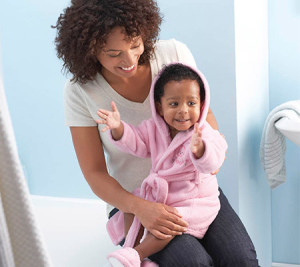 When you're done, gently but thoroughly pat your little one down with a clean, unused towel and wrap them up burrito style. Now they're all ready for a warm, cozy outfit and lots of snuggling!