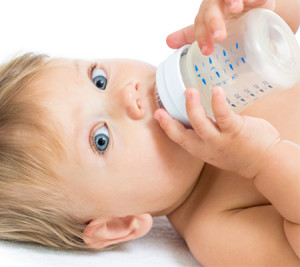 Iron-enriched formula is an alternative to breast milk and serves as a source of nutrients for your baby's normal growth and development. When deciding on a formula there are several top-rated baby formulas you'll come across, from basic, milk-based formula to specialty organic, soy, lactose-free, hypoallergenic and preemie varieties. If you're not sure what the best baby formula is for your little one's needs, ask your pediatrician for a recommendation.
Facts about formula
Formula can meet your baby's nutritional needs for the first 4 to 6 months. New infant formulas contain DHA and ARA, two nutrients found in breast milk that are thought to contribute to mental and visual development. For babies younger than nine months, it's important that they take formula, not regular cow's milk, in their bottles. Children this young are not able to properly digest cow's milk, and infant formulas can provide them with the vitamins and minerals they need at a very young age.
Powder formulas
Generally the most economical and easiest to store and carry. It is a great option for babies who consume several larger servings a day. However, it takes the most time to prepare and careful measuring is required. Be sure to check the expiration date and discard unused powder one month after opening and any prepared formula that has not been fed to baby must be used within 24 hours.
Ready-made formula
This is pre-made and ready-to-go for your baby without needing to mix with water. Although this is the most convenient at-the-time option, it's usually the more expensive choice and must be used within 48 hours after opening.
Liquid concentrate formulas
This format provides good value and is easy to prepare. This option usually requires mixing equal parts formula and water. Compared to ready-to-use formula, it is less expensive. Like ready-made formulas, an already-prepared mixture must be discarded if not used within 48 hours.
Cow's milk-based formulas
Almost all formulas start with a base of cow's milk; however, it is then processed in a way that makes it safe for infants and easier for them to digest. Cow's milk-based formulas most closely resemble breast milk. Both Health Canada and The Canadian Paediatric Society recommend using a cow's milk based formula if possible.
Organic formulas
Made with high quality protein, carbohydrates, vitamins and minerals. It's not necessary, but if you can afford it, it's not a bad thing for your baby.
Soy-based formulas
Sold as an alternative to milk-based formulas, soy can help with digestion if milk-based formulas cause discomfort. Besides health concerns with milk-based formula for babies who have milk intolerance, some parents choose soy-based formula for cultural or religious reasons.
Lactose-free cow's milk formula
Designed for babies with common feeding problems due to lactose sensitivity. It contains the nutrition of milk-based formula without the lactose.