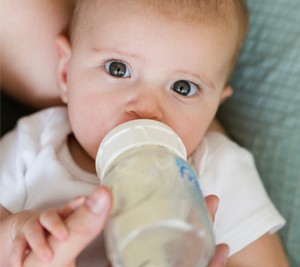 New mom or need a refresh? Here are some feeding basics to keep in mind.
Babies who are formula feeding don't need as tight of a schedule as breastfeeding babies.
For most bottle-fed newborns, feeding every 3 to 4 hours is appropriate.
As for newborn feeding amounts, they'll take about 2 to 3 ounces per feeding.
At 1 month old, about 4 ounces per feeding is about right.
At 6 months old, you can increase to about 6 to 8 ounces per feeding.
Notice your baby is smacking their lips, squirming or sticking their tongues out after feeding? They're not just trying to be cute. They could be trying to tell you they're still hungry.
Conversely, if they turn their heads away or start getting distracted while you're trying to feed them, they may be trying to tell you they're full.
In the first month, 5 to 6 wet diapers and at least 3 to 4 bowel movements a day is a good sign your baby is getting enough to eat. To be absolutely sure, check with your pediatrician.
Having the right bottle-nipple pairing will ensure a happier baby at feeding time.