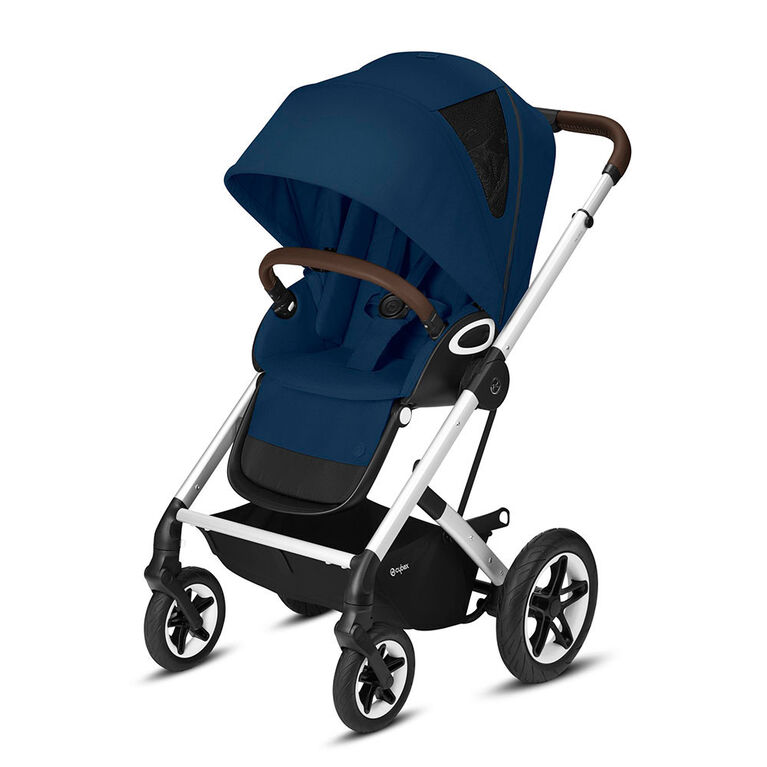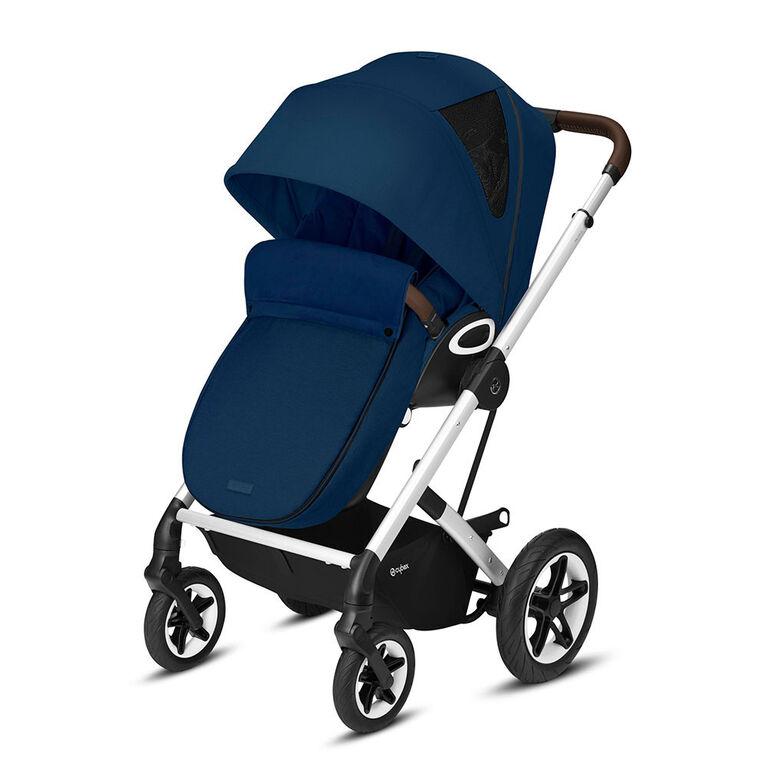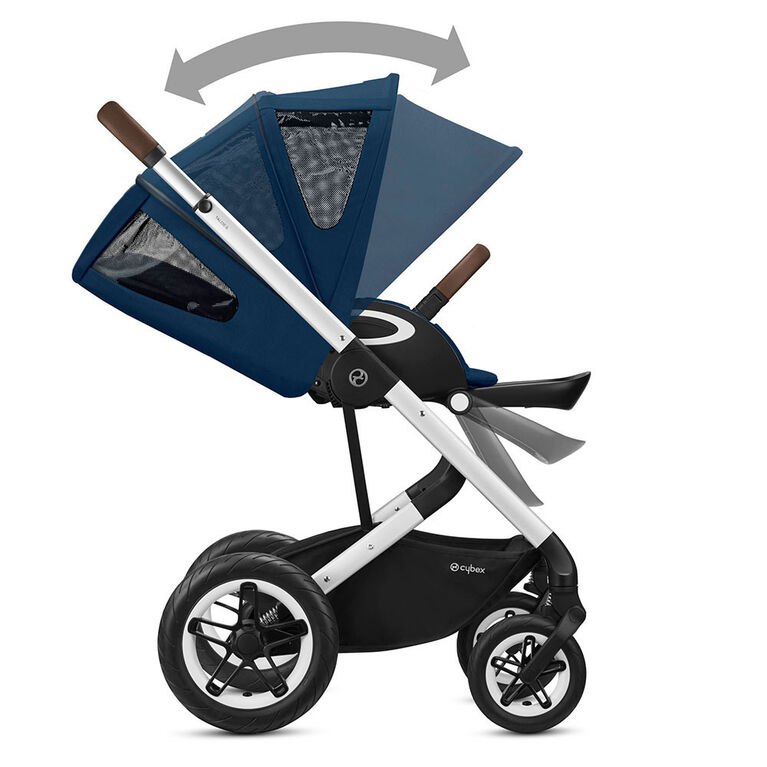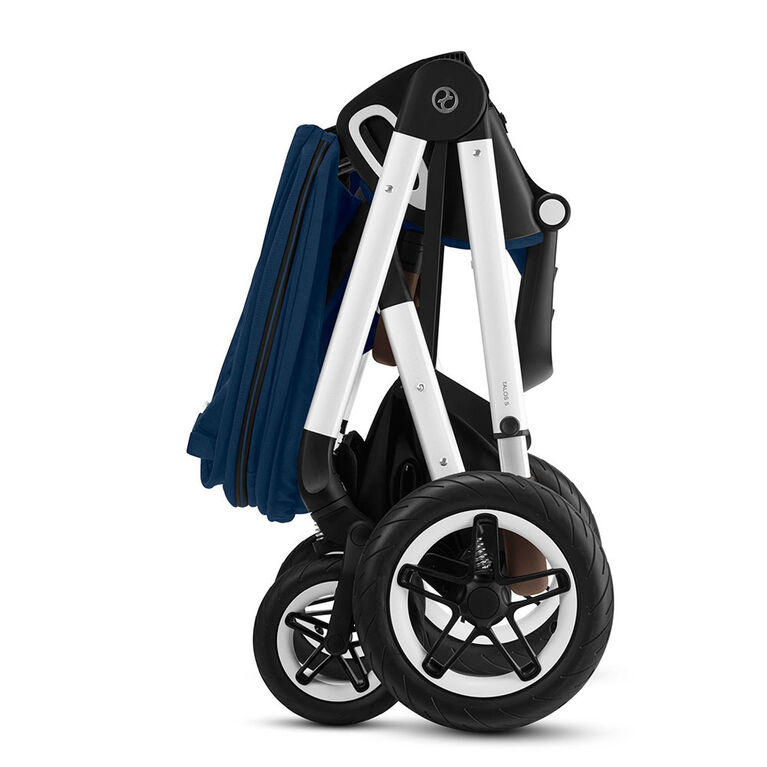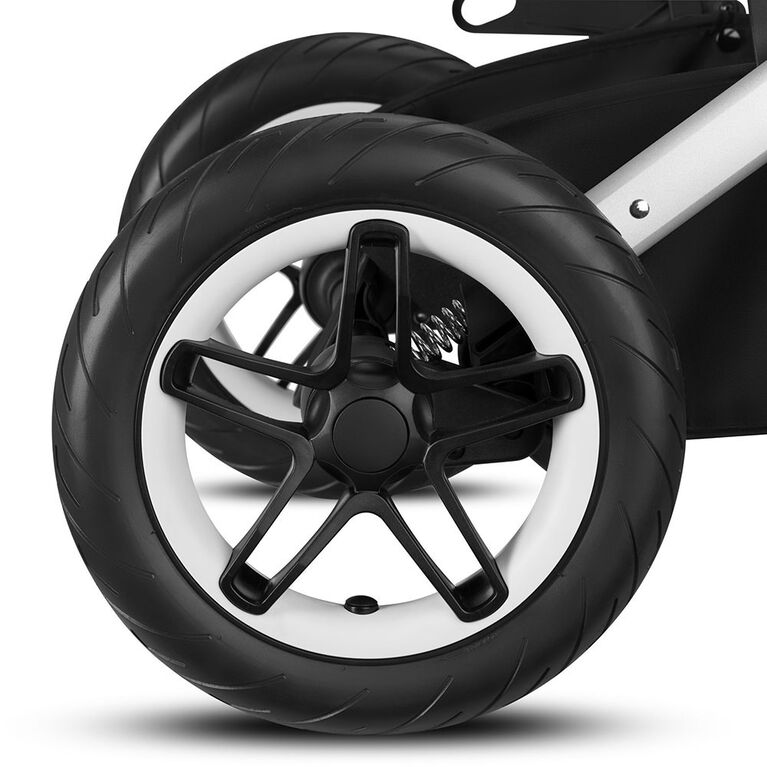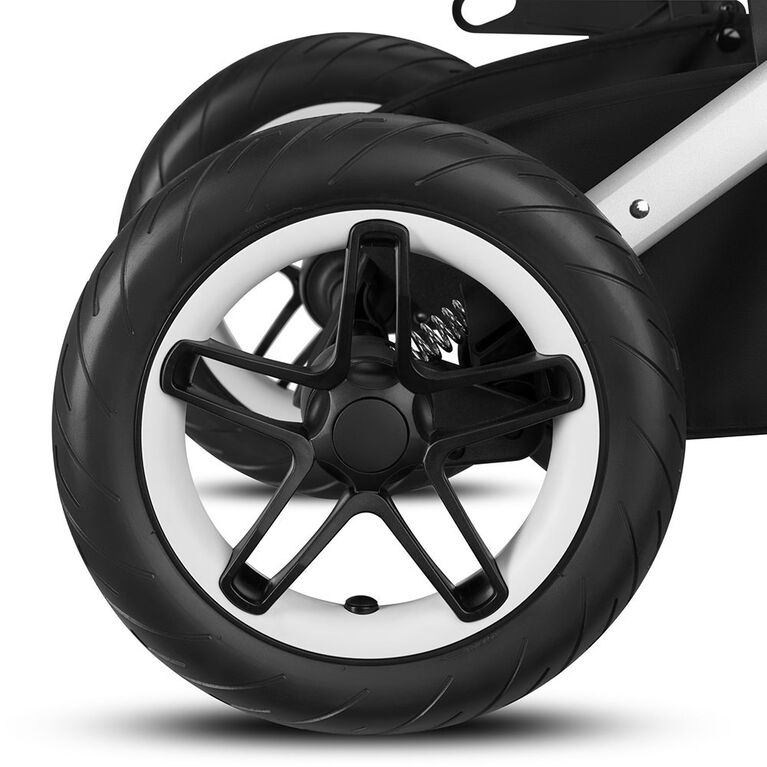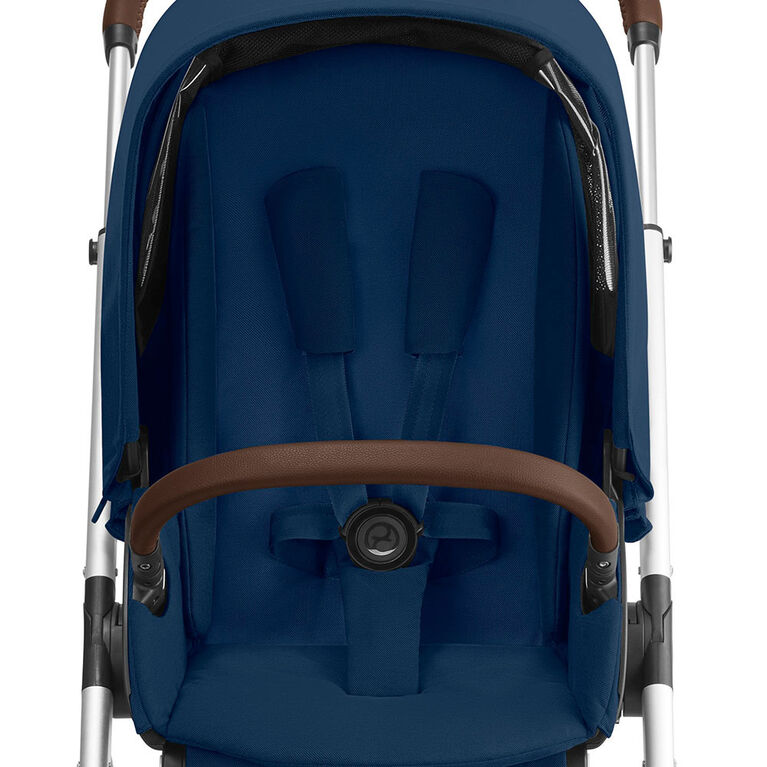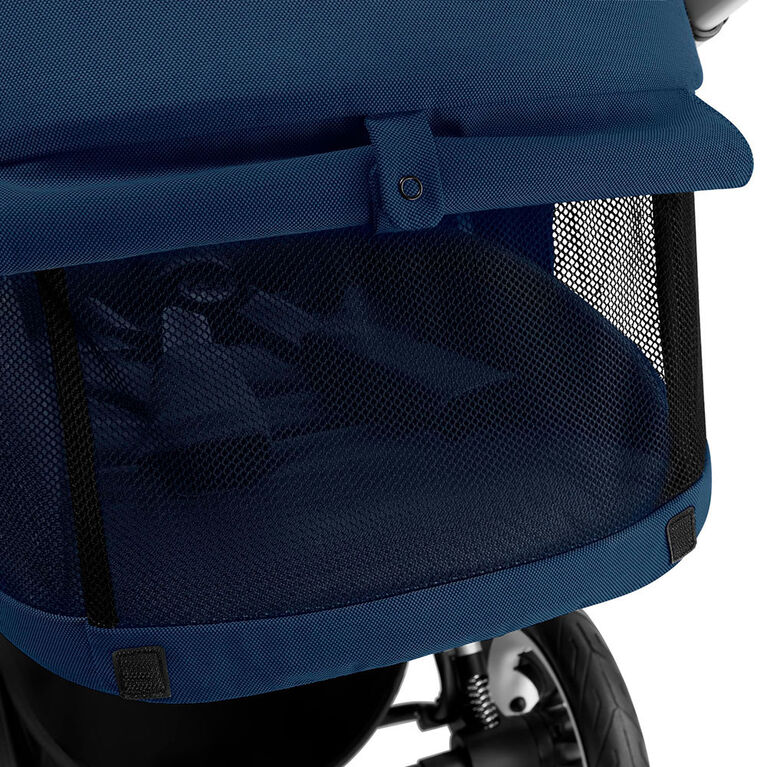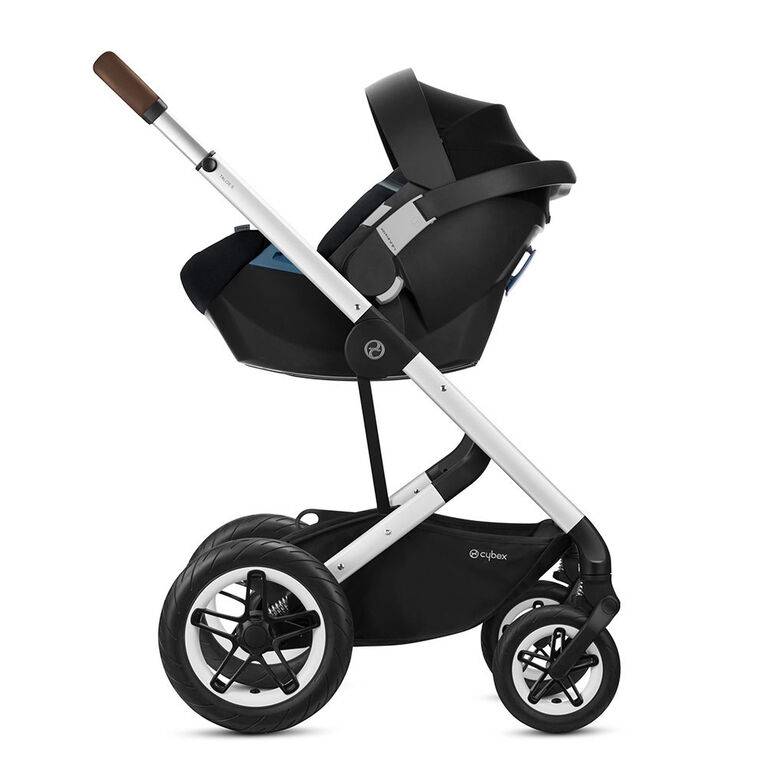 Venture off-road with the CYBEX Talos S Lux, an outdoor stroller that delivers a safe, smooth ride across sidewalks to hiking trails and beyond. Comfort awaits with a large, luxurious seat featuring enhanced side protection and smooth all-wheel suspension for enhanced mobility and agile performance. Add a CYBEX infant car seat to create a versatile 2-in-1 travel system that combines off-road adventures with smooth city strolls.




Large, luxurious seat provides comfort and safety with enhanced side protection for your child
Big, puncture-proof all-terrain wheels with all-wheel suspension ensure a smooth ride on various surfaces
Extendable XXL sun canopy with mesh window and a UPF 50+ rating
One-hand fold to a self-standing position for easy storage
Seat aligns with typical table heights, making dining out more convenient
Spacious shopping basket for stowing away your belongings (5 kg/11 lb. max load)
Windstopper protects against cold, wind and rain
Includes: windstopper, car seat adapters, cup holder and rain cover


Expanded assortment available online. This product is not available in our stores & may experience longer ship time. Please allow 10 to 14 days for this product to arrive.
Additional Information
SKN: 85815
ID: F4B90BAB
UPC: 4063846033607
Brand: Good Baby
Part Of Assortment: No
MFR Number: 0004523
Ship to Quebec: Yes
Maximum Order Quantity: 3
Registerable: Yes
Language: Bilingual
Gift Wrap: Gift wrap is not available for this item
Assembly
Assembly Required: Yes
Assembly Height: 45.7 inches
Assembly Length: 35.8 inches
Assembly Weight: 31.5 lbs
Assembly Width: 23.8 inches
Item Height: 28.55 inches
Item Length: 20.08 inches
Item Weight: 40.12 lbs
Item Width: 14.57 inches
<!--begin-bvseo-reviews--> <!--begin-reviews--> <div id="bvseo-reviewsSection"> <div class="bvseo-review" itemprop="review" itemscope itemtype="http://schema.org/Review" data-reviewid="1087859782"> <span itemprop="reviewRating" itemscope itemtype="http://schema.org/Rating"> Rated <span itemprop="ratingValue">4</span> out of <span itemprop="bestRating">5</span> </span> by <span itemprop="author">Bexx65</span> from <span itemprop="name">Steers Like A Dream</span> <span itemprop="description">[This review was collected as part of a promotion.] This stroller is beautiful. The bonus accessories it comes with (windstopper, rain cover, cup holder) are a nice addition too. My favorite feature is how well thing steers. It is SO easy to navigate around one handed and the puncture-proof tires hold up so well to different terrains. I also loved how huge the canopy is and how it can be adjusted all the way back or even removed when not needed. I also need to give a shout-out to the strength of the adjustable foot rest. My 3-year-old (aka Mr. Independent) insists on climbing in and out on his own and that thing held his weight without any issues! A few things I struggled with- the first was folding it one-handed. Sometimes I couldn't get both sides to engage at the same time to fold. I also found the stroller to be heavier than I was expecting for a stroller of this size. Lastly, I found the straps to be difficult to adjust- though after messing around with them for a bit, I was able to figure them out.</span> <div class="bvseo-pubdate">Date published: 2021-01-17</div> <meta itemprop="datePublished" content="2021-01-17" /> </div> <div class="bvseo-review" itemprop="review" itemscope itemtype="http://schema.org/Review" data-reviewid="1087610521"> <span itemprop="reviewRating" itemscope itemtype="http://schema.org/Rating"> Rated <span itemprop="ratingValue">5</span> out of <span itemprop="bestRating">5</span> </span> by <span itemprop="author">NguyenPartyOf4</span> from <span itemprop="name">A luxury stroller with everything I wanted &amp; more!</span> <span itemprop="description">[This review was collected as part of a promotion.] The Cybex Talos S Lux stroller is the true definition of a luxurious full size stroller. I&rsquo;m a mother of two kids: one infant (20 lbs) and one toddler (30 lbs). Both kids uses this stroller and love it. I&rsquo;ve been using this stroller for weeks and I&rsquo;m still in love with it since the day I got it! If I had to pick one stroller, this would definitely be it. I&rsquo;m a petite mom so what I look for in a stroller is the ease of use, comfortability while sitting/sleeping, and durability/functionality. This stroller had all I was looking for and more! Out of the box, the stroller was easy to set up and the directions were clear. The overall product after setup was such a beauty! Based on the looks, it definitely portrays a sleek and high-end stroller, even my husband was amazed. I was impressed with the frame/structure because it&rsquo;s very well built. When my infant first sat in the seat, I felt how the stroller seat was so comfortable. My infant usually cries for me to pick her up but she was unbothered in the stroller (definitely a plus!). The adjustable leg rest was a nice feature for my toddler since she has long legs. I love the leather belly bar and I can attach toys or a fan when needed. The belly bar can also be detached if you don&rsquo;t need it, which comes in handy when my kids get older. The leather handlebar is adjustable, perfect for my 4&rdquo;11 height and my husband&rsquo;s 5&rdquo;6 height difference. The oversized back wheels gave such a smooth suspension that you can use one arm to steer. So far, I have taken it around a few places (due to COVID-19), from around the neighborhood, parks, and zoo. Pushing the stroller on the sidewalk and on grass felt no different because the suspension felt like the stroller was gliding. The zoo had plenty of bumps on the road but neither myself or my kids felt much. I am impressed with how deep the seat reclines back that if my infant naps, she would be just fine and comfortable. The seats are reversible so I can push the kids facing the outside or towards myself. This is a plus if I want to see her when she&rsquo;s sleeping and it&rsquo;s so easy; just hold down the side buttons and lift! The canopy is also a great size where you can unzip if more cover is needed. There are a few mesh openings in the canopy so I can view my kids and it gives them a nice breeze. The storage basket is spacious, it had enough room for my diaper bag and changing pad and extra! I love that the seat is set higher so I don&rsquo;t have to lean over as much. We have used it as a &ldquo;highchair&rdquo; on some occasion during our outdoor dining and the belly bar rest right on the table. Our infant was comfortable in the stroller while eating at the same table as us without sitting in a hard, wooden highchair. As a full size stroller, it is a bit on the heavy side being over 30 pounds but it wasn&rsquo;t a problem for me since the only time I carry it is taking it out my trunk and putting it back in. I haven&rsquo;t had any major accidents or spills in it besides the usual food crumbs but that was easy to clean regardless. Accessories such as a wind stopper, rain cover, car seat adapters and cup holder were included in the box. Some of these accessories are usually sold separately so I&rsquo;m glad they were included. I haven&rsquo;t used the wind stopper or car seat adapters so I can&rsquo;t comment on that. Closing the stroller is a true one-hand fold and the upright self-standing stroller is amazing! So far, I haven&rsquo;t had any issues or dislikes with this stroller. Overall, my kids feel safe, comfortable, and stylish (mama too!) in their Cybex Talos S Lux stroller and I recommend any parent looking for a full-size stroller that this is the one!</span> <div class="bvseo-pubdate">Date published: 2021-01-13</div> <meta itemprop="datePublished" content="2021-01-13" /> </div> <div class="bvseo-review" itemprop="review" itemscope itemtype="http://schema.org/Review" data-reviewid="1087213788"> <span itemprop="reviewRating" itemscope itemtype="http://schema.org/Rating"> Rated <span itemprop="ratingValue">5</span> out of <span itemprop="bestRating">5</span> </span> by <span itemprop="author">Cobainian</span> from <span itemprop="name">So fancy!</span> <span itemprop="description">[This review was collected as part of a promotion.] This stroller seems extremely sturdy and well built. It was extremely easy to put together, just followed the pictures in the instructions. I had it together within 5 minutes, no tools required! I love how easily it pushes, that you can have the child facing you or facing away from you, that the handle is extendable, how easily it folds and all the little extras, like the foot muff to keep baby warm, the rain guard and the extendable canopy. It&rsquo;s very easy to use this stroller and is by far the fanciest stroller I&rsquo;ve ever owned! The only cons are how heavy it is (I&rsquo;m seriously wondering how I will lift it into my van on my own), and I wish it came with a sturdier, built in cup holder. The one that it comes with is detachable and seems like it will bend/break easily.</span> <div class="bvseo-pubdate">Date published: 2021-01-07</div> <meta itemprop="datePublished" content="2021-01-07" /> </div> <div class="bvseo-review" itemprop="review" itemscope itemtype="http://schema.org/Review" data-reviewid="1086962447"> <span itemprop="reviewRating" itemscope itemtype="http://schema.org/Rating"> Rated <span itemprop="ratingValue">4</span> out of <span itemprop="bestRating">5</span> </span> by <span itemprop="author">MomAt40</span> from <span itemprop="name">What I Like about the Talos S Lux Stroller</span> <span itemprop="description">[This review was collected as part of a promotion.] We received the Talos S Lux by Cybex right before Christmas. We were really excited to try it out. Below I list what I love, like, and what I don&rsquo;t like. But First, I want to say this is the first stroller we&rsquo;ve had that thought about our child&rsquo;s comfort AND the parents comfort. For us strollers or similar ride-a-long devices have been horrible for us - we would find our child leaning to the side almost immediately, looking very uncomfortable and definitely with bad posture plus ready to be carried after a short time. In the Talos S Lux, our child looked comfortable, smiled the whole time and didn&rsquo;t ask to be carried. Each time we took out the stroller, it was the same experience, which was a comfortable ride and big smiles - and that&rsquo;s really what matters. It makes my heart happy that we finally have a comfortable ride and makes any negatives seem small. I love the ability to have a forward facing or rear facing pre-installed seat. This is something that comes in handy from infant through toddler and beyond. It&rsquo;s genius and generous. We could easily install the seat facing either direction. I love the foam foot rest. It was comfortable in various positions for our toddler. I love the extended canopy complete with peek-a-boo window. This helps greatly with any weather situation. I love the wheels. It was very apparent when we travelled through grassy, bumpy hills that it was easy to push and didn&rsquo;t feel like the grass was getting caught in the wheels. We also noticed the suspension gave our child a smoother experience, which was an added bonus. I love that the seat can be adjusted to full-laying or full-upright. It makes it great at any age and easy to find a comfortable position for your child. I love the smiles and the comfort of my child during each ride. I like that the unboxing and assembly were easy and took about 5 minutes. I like the leather handle bars. It&rsquo;s a sophisticated and stylish design feature. I like the adjustable handle bar, which works great for either taller or shorter people. I like that the child&rsquo;s hand rail swings away to help load/unload the child. I like the Large basket for personal items. Great for diaper bags, purses, backpacks,etc. I like the overall look and feel of the stroller. It is sturdy and reliable. I don&rsquo;t like: Collapsing the stroller takes a lot of practice. It is not intuitive, it requires 2 hands, and is at least a 2 step process. We struggled with this each time. To collapse, first make sure the wheels are unlocked and facing outwards (this is to ensure it can stand alone without toppling over); next slide the white button on top of the handle bar while pushing button under the handle bar and apply downward pressure - all at the same time; finally, fold the seat by using the latch on the back of the seat - this is the same latch that allows you to adjust the seat position from laying to sitting. It is heavy. This is not a stroller you can quickly retrieve or store away. Give yourself a couple minutes. And I wouldn&rsquo;t recommend this for grandparents. It also takes a lot of room inside a vehicle or trunk. So, you would need to consider the dimensions of the stroller and your vehicle before deciding on this purchase. There isn&rsquo;t a cup holder/accessory tray included. I don&rsquo;t mind buying an accessory, but it seems this should be a standard item at this day and age. Instructions are not the best, we used YouTube to assemble and also to learn how to collapse the stroller. So, I feel this came be improved. I don&rsquo;t like how the shoulder straps adjust and must be stored behind the shoulder padding. This system typically becomes sloppy as time goes on and gets in the way.</span> <div class="bvseo-pubdate">Date published: 2021-01-04</div> <meta itemprop="datePublished" content="2021-01-04" /> </div> <div class="bvseo-review" itemprop="review" itemscope itemtype="http://schema.org/Review" data-reviewid="1086750676"> <span itemprop="reviewRating" itemscope itemtype="http://schema.org/Rating"> Rated <span itemprop="ratingValue">4</span> out of <span itemprop="bestRating">5</span> </span> by <span itemprop="author">Marissa</span> from <span itemprop="name">Great stroller</span> <span itemprop="description">[This review was collected as part of a promotion.] I really have enjoyed this stroller. My daughter (2.5) has decided this is her favorite of all my strollers. The huge sunshade is fantastic and I love the seat recline that locks into any position not just a select few &ldquo;clicks&rdquo;. The belly bar folds down and to the side so it&rsquo;s not sticking out if not in use which is also a huge plus compared to some of my other strollers. I love that all the accessories just come with it and are not an additional purchase you have to make. The only negative I can find is how large it is when folded. It&rsquo;s pretty large and luckily I have a large SUV, it will not fit into my husbands trunk of his compact car.</span> <div class="bvseo-pubdate">Date published: 2020-12-31</div> <meta itemprop="datePublished" content="2020-12-31" /> </div> <div class="bvseo-review" itemprop="review" itemscope itemtype="http://schema.org/Review" data-reviewid="1086694530"> <span itemprop="reviewRating" itemscope itemtype="http://schema.org/Rating"> Rated <span itemprop="ratingValue">5</span> out of <span itemprop="bestRating">5</span> </span> by <span itemprop="author">ClaudiaBrooklynMom</span> from <span itemprop="name">Almost all features I look for!!</span> <span itemprop="description">[This review was collected as part of a promotion.] The Talos S Lux stroller exceeded my expectations. After owning and/or trying 6 strollers, I found one that has almost all the features I&rsquo;ve always wanted: (1) a deep and large seat which makes strolling with toddlers very comfortable for them. Also, the stroller last longer as it can be used with taller toddlers; (2) under seat storage large enough to put a large backpack or large groceries bag; (3) telescopic handle. The possibility to choose the height makes pushing more comfortable. Also, with a second one on the way, I hope to be able to use a ride-on board without compromising much the space for me to push; (4) extra large sun hood with windows for ventilation. The very first day I used the stroller was during the winter storm in New York and the hood proved to be very much useful and needed to protect my child from the snow and wind; (5) included rain cover which ensures the perfect fit. It is pretty annoying to have to use a lot of creativity and extra pins, Velcro or cord to adapt an universal rain cover which never has the good shape. I just wish the included rain cover had a zipper to make putting the child in the stroller much easier once the cover is installed. As it is, you need to completely remove the cover and reinstall every time; (6) included cup holder snapped in a way that both a water bottle and a coffee mug fit well; (7) large back wheels. The front wheels initially seemed small but it was easy to push the stroller through heavy snow and on Brooklyn bumpy side walks as if I was pushing my big jogging stroller; (8) easily accessible button to recline the seat. Truth to be told, sling back seat is usually deeper and more comfortable for toddlers but it&rsquo;s always very difficult to put back in the upright position and requires both hands which is not always a given when you have a child, groceries, phone and coffee to hold. I wish it had a little back pocket to put keys, wallet&hellip; small things. Other than that, if it was lighter and could lie flat would be the perfect stroller for my toddler and the baby on the way.</span> <div class="bvseo-pubdate">Date published: 2020-12-30</div> <meta itemprop="datePublished" content="2020-12-30" /> </div> <div class="bvseo-review" itemprop="review" itemscope itemtype="http://schema.org/Review" data-reviewid="1086689173"> <span itemprop="reviewRating" itemscope itemtype="http://schema.org/Rating"> Rated <span itemprop="ratingValue">5</span> out of <span itemprop="bestRating">5</span> </span> by <span itemprop="author">Ncoliver1</span> from <span itemprop="name">Stroller That Has It All</span> <span itemprop="description">[This review was collected as part of a promotion.] We got the Talos S Lux Stroller about a month ago and absolutely love it. The first thing we noticed is how easy it is to unfold and setup. One hand is all it takes to fold and unfold the stroller. We also love that we can have our baby face us most of the time, but quickly and easily swap so that he faces forward for trips to the zoo and aquarium. We love the design of the canopy. It comes down far enough to block the sun, but has covered openings on the sides so that we can see our baby and he can see us. It provides the protection from from sun, but keeps our boy from getting fussy. The included wind stopper and rain cover are great additions that keep our baby comfortable in all weather conditions. The small details are what really sets this stroller apart from the rest. The tan leather handle and safety bar give it a very elegant look. The location of the cup holder on the side of the stroller rather than the handle makes a big difference. The foot pedal brake makes it very easy to set when your hands are full. When the stroller is in the collapsed position there is a lock that keeps it from coming undone. This makes it so much easier to load and unload from the car. The harness offers shoulder strap and lap belt protection with just 2 buckles. This makes it much easier to strap a fussy baby in, while offering the safety benefits of a 5 point harness. So many more great features. We really feel like Cybex thought of everything. We also have a Cybex car seat. We love that using the included adapters we can attach the car seat to the stroller without waking our sleeping baby. The stroller is the perfect size. It is roomy with lots of storage space underneath, but at the same time collapses down and easily fits in our trunk. We would 100% recommend this stroller. Not only is the stroller an outstanding product, but all the needed accessories are included with it. We have been very impressed with Cybex products and will continue to purchase in the future.</span> <div class="bvseo-pubdate">Date published: 2020-12-30</div> <meta itemprop="datePublished" content="2020-12-30" /> </div> <div class="bvseo-review" itemprop="review" itemscope itemtype="http://schema.org/Review" data-reviewid="1086605316"> <span itemprop="reviewRating" itemscope itemtype="http://schema.org/Rating"> Rated <span itemprop="ratingValue">5</span> out of <span itemprop="bestRating">5</span> </span> by <span itemprop="author">Randommomlife</span> from <span itemprop="name">Amazingly smooth ride!</span> <span itemprop="description">[This review was collected as part of a promotion.] This stroller went together very easily (even with two little helpers). I love the extras that are included with it, including what I call the foot sleeping bag. That really came in handy as we brought it up to the cabin to use on the dirt roads, hills and snow. The stroller pushes very easily and provides a smooth ride. While we primarily use it for our 2 year old, our 5 year old had to give it a try and said it was super comfortable. The storage space is very large, though I wish the basket itself were just a bit deeper as a stuffed animal slid out while going up a steep hill. The handle adjusts easily and fits both my husband and me. The option to turn the seat around is really nice, especially if you have little littles. The recline is great for napping kiddos. Aesthetically, you couldn&rsquo;t ask for more. Functionally, it performs way better than I hoped. It handled a steep hill with 2&rdquo; of fresh powder without a struggle, then proceeded to be an enjoyable push on poorly plowed rural roads for the rest of the 2 miles of its maiden voyage.</span> <div class="bvseo-pubdate">Date published: 2020-12-30</div> <meta itemprop="datePublished" content="2020-12-30" /> </div> </div> <script type="text/javascript"> if (document.getElementById('bvseo-reviewsSection')) { document.getElementById('bvseo-reviewsSection').style.display = 'none'; } </script> <!--end-reviews--> <!--begin-pagination--> <ul id="bvseo-paginationSection"> <li class="bvseo-paginationItem"><a class="bvseo-paginationLink" href="https://www.babiesrus.ca/en/Cybex-Talos-S-Lux-Stroller---Navy-Blue/F4B90BAB.html?bvstate=pg:2/ct:r">Cybex Talos S Lux Stroller - Navy Blue Reviews - page 2</a></li> </ul> <!--end-pagination--> <ul id="BVSEO_meta" style="display:none!important"> <li data-bvseo="bvDateModified">y_2021, m_12, d_2, h_19</li> <li data-bvseo="ps">bvseo_bulk, prod_bvrr, vn_bulk_3.0.20</li> <li data-bvseo="cp">cp_1, bvpage1</li> <li data-bvseo="co">co_hasreviews, tv_0, tr_34</li> <li data-bvseo="cf">loc_en_CA, sid_F4B90BAB, prod, sort_[SortEntry(order=SUBMISSION_TIME, direction=DESCENDING)]</li> <li data-bvseo="diagnostics">clientName_toysrus-ca</li> </ul> <!--end-bvseo-reviews--> <ul id="BVSEOSDK_meta" style="display: none !important;"> <li data-bvseo="sdk">bvseo_sdk, dw_cartridge, 18.2.0, p_sdk_3.2.0</li> <li data-bvseo="sp_mt">CLOUD, getReviews, 7ms</li> <li data-bvseo="ct_st">reviews, product</li> </ul>
<ul id="BVSEOSDK_meta" style="display: none !important;"> <li data-bvseo="sdk">bvseo_sdk, dw_cartridge, 18.2.0, p_sdk_3.2.0</li> <li data-bvseo="sp_mt">CLOUD, getContent, 19ms</li> <li data-bvseo="ct_st">questions, product</li> <li data-bvseo="ms">bvseo-msg: Unsuccessful GET. status = 'ERROR', msg = 'Not Found.';</li> </ul>
SKN: 85815
Free Store Pickup
Home Delivery
Get it Fast
In-Store or Curbside: Ready in ~4 hrs.
Have it Delivered
Must be home for delivery by DoorDash
Not eligible for Same Day Delivery -
Ship it
Arrives in 6-10 business days
Currently Credit Card is the only form of payment supported for pre-orders.
Free Shipping* on Baby Gear!