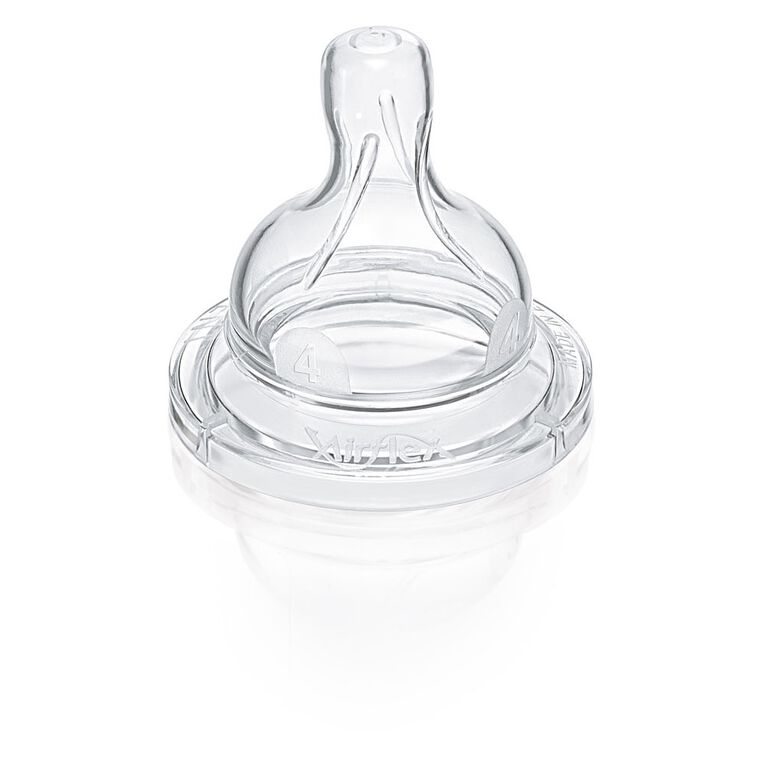 Philips AVENT SCF634/27 Classic+ Fast Flow Nipple lets babies control the flow of milk like with breastfeeding, which can reduce spit-up and overeating. Philips AVENT's anti-colic valve flexes to keep air in the bottle and out of your baby's tummy, a feature that reduces fussing and colic. In a clinical trial, two-week-old infants fed with a Philips AVENT Classic+ bottle experienced less colic than babies fed with a conventional bottle, with the greatest difference seen at night. Designed for babies at least 6 months old, these four-hole nipples offer a fast flow. The nipple is made of flavorless, odorless silicone that resists discoloring and stickiness. The nipple's soft, rounded shape promotes feeding for babies who nurse from both the breast and a bottle. The Classic+ BPA Free nipples are dishwasher safe and can be sterilized by boiling for five minutes or by using a Philips AVENT steam sterilizer.


BPA Free
Advanced anti-colic system: Innovative twin valve design reduces colic and discomfort by venting air into the bottle and not baby's tummy
Nipple features 4 holes ideal for babies 6 months old and up
Dishwasher safe
Compatible with Classic and Classic+ feeding bottles
Additional Information
SKN: 625442
ID: 25449B6E
UPC: 761269001954
Brand: Philips AVENT
Part Of Assortment: No
MFR Number: CF42427
Ship to Quebec: Yes
Shipping Window Max Days: 2
Shipping Window Min Hours: 24
Registerable: Yes
Language: Bilingual
Gift Wrap: Yes
Assembly
Item Height: 5.32 inches
Item Length: 2.17 inches
Item Weight: 2.17 lbs
Item Width: 2.36 inches
Batteries
Batteries Included: false
Batteries Required: false
<!--begin-bvseo-reviews--> <!--begin-reviews--> <div id="bvseo-reviewsSection"> <div class="bvseo-review" itemprop="review" itemscope itemtype="http://schema.org/Review" data-reviewid="1061953400"> <span itemprop="reviewRating" itemscope itemtype="http://schema.org/Rating"> Rated <span itemprop="ratingValue">5</span> out of <span itemprop="bestRating">5</span> </span> by <span itemprop="author" itemtype="http://schema.org/Person" itemscope><span itemprop="name">Queenbabies</span></span> from <span itemprop="name">Anti-gassy baby bottle</span> <span itemprop="description">I am thoroughly impressed with the advanced design of this new Philips Avent Anti-colic bottle. I haven&rsquo;t seen another bottle like his before, the nipple stays full of milk while the baby is drinking. I use the faster flow nipple because my baby likes to eat at a faster pace but if your Baby eats slower they have different flow nipples that can easily be changed out. I have noticed a reduction in the amount of gas my baby passes as well, that I would attribute to less air being swollowed due to the unique always full of milk nipple feature. It&rsquo;s also easy to clean and sanitize. I was excited to try this bottle out compliments of the Wee Spring Parent Panel to see if it helped my baby out with all the gas and was happy to see it works well.</span> <div class="bvseo-pubdate">Date published: 2019-05-22</div> <meta itemprop="datePublished" content="2019-05-22" /> </div> <div class="bvseo-review" itemprop="review" itemscope itemtype="http://schema.org/Review" data-reviewid="1061953453"> <span itemprop="reviewRating" itemscope itemtype="http://schema.org/Rating"> Rated <span itemprop="ratingValue">5</span> out of <span itemprop="bestRating">5</span> </span> by <span itemprop="author" itemtype="http://schema.org/Person" itemscope><span itemprop="name">Laurenmalea</span></span> from <span itemprop="name">Great nipples!</span> <span itemprop="description">We liked this bottle just fine! My little one is a year old now and we are past the point of worrying about colic and he never had this issue to begin with so I can&rsquo;t really judge this product for those factors. He took to the nipple just fine considering we normally use another brand. I was concerned with the bottle having the extra part that it might be hard to clean. This was not the case it was very easy to clean and easy to put together. I did appreciate receiving the correct nipple for his stage and it&rsquo;s hreat they offer a variety of flow rates! My only concern was since my baby now holds his own bottle it was hard to make sure that piece inside was facing the top at all times. Thank you to the weeSpring Parent Panel for providing me with the nipple and bottle by Phillips Avent!</span> <div class="bvseo-pubdate">Date published: 2019-05-17</div> <meta itemprop="datePublished" content="2019-05-17" /> </div> <div class="bvseo-review" itemprop="review" itemscope itemtype="http://schema.org/Review" data-reviewid="1061953455"> <span itemprop="reviewRating" itemscope itemtype="http://schema.org/Rating"> Rated <span itemprop="ratingValue">4</span> out of <span itemprop="bestRating">5</span> </span> by <span itemprop="author" itemtype="http://schema.org/Person" itemscope><span itemprop="name">MimiSf</span></span> from <span itemprop="name">Good bottle just not for my baby</span> <span itemprop="description">I am a second time mom and exclusively breastfeeding. Our little girl (9 months old) has generally been pretty picky about taking a bottle, having not really been introduced to one introduced until six months, and even then, sparingly. With that in mind, it's not immensely surprising that she didn't take to this one terribly well either, however she did develop an enthusiasm for chewing the teat, and also took it as a self-guided exercise in bottle holding. That was a little bit of an issue, since at she didn't understand the need for the air insert to be facing up when she inverted the bottle, and as a result managed to pretty consistently tip the bottle contents on herself when she did invert it. While there are bottles she will take and sip at periodically, with this one she was more content to chew on for most part, only putting the very end of the nipple in her lips to drink every now and then. While it's only an assumption, I suspect it's due to the nipple being narrow and elongated, rather than those which are more rounded and breast-like; which she is more prone to taking. At face value, I liked the product concept, and there are definitely elements which make a great deal of sense; even if our nine month old didn't appreciate them. The tapered bottle made it easy to hold, both for us in feeding, and for the baby when she wanted to be in charge. The air-flow system seems to do exactly what you'd hope, however I'd say is really only practical for parent-guided feeding... once they're old enough to hold it themselves, you're best served to remove it, and let them swallow a bit of air. It was great to have a selection of nipples to choose from, although it would be nice if there was some more distinct variance in shape available... again, it may be phooey, but I do think our little one takes better to a shorter, more curved teat. Overall it's a nice bottle but just doesn't work for my baby girl. Thank you WeeSpring Parent Panel for giving us graciously this product to try.</span> <div class="bvseo-pubdate">Date published: 2019-05-16</div> <meta itemprop="datePublished" content="2019-05-16" /> </div> <div class="bvseo-review" itemprop="review" itemscope itemtype="http://schema.org/Review" data-reviewid="1061953483"> <span itemprop="reviewRating" itemscope itemtype="http://schema.org/Rating"> Rated <span itemprop="ratingValue">5</span> out of <span itemprop="bestRating">5</span> </span> by <span itemprop="author" itemtype="http://schema.org/Person" itemscope><span itemprop="name">Anonymous</span></span> from <span itemprop="name">Cool bottle</span> <span itemprop="description">These bottles are so neat! They are designed so that even if the bottle is not held completely upright the nipple still stays full of milk/formula so the baby does not ingest unnecessary air that can happen with other bottles when they get tipped. The vent system that allows this feature isn't too hard to clean as it is all one piece so clean up isn't too bad involving a large number of extra bottle parts, which I really appreciate. The size/shape of the nipple is a little large for my babies liking but she is extremely picky when it comes to bottles that she accepts. After some coaxing she does accept the nipple and is able to get a good latch on it. The bottle itself is a nice size and shape and easy to hold as well. I definitely noticed less burps/gas after my baby drinks from these bottles compared to other brands so the vent keeping the air out of the nipple must be working. The best part about the bottle is that it is easy to clean and the extra vent is only one extra piece to clean but provides an amazing benefit. Overall I really enjoy this bottle and will look into purchasing more. Thank you weeSpring Parent Panel for providing me with this product in exchange for my honest review.</span> <div class="bvseo-pubdate">Date published: 2019-05-15</div> <meta itemprop="datePublished" content="2019-05-15" /> </div> <div class="bvseo-review" itemprop="review" itemscope itemtype="http://schema.org/Review" data-reviewid="1061953414"> <span itemprop="reviewRating" itemscope itemtype="http://schema.org/Rating"> Rated <span itemprop="ratingValue">4</span> out of <span itemprop="bestRating">5</span> </span> by <span itemprop="author" itemtype="http://schema.org/Person" itemscope><span itemprop="name">mommasimpson2013</span></span> from <span itemprop="name">Great Nipple</span> <span itemprop="description">I enjoyed using the Avent Anti-Colic fast flow nipple. We were switched to using cereal due to reflux so we had to switch to a different nipple but I do recommend the Avent Anti-Colic fats flow for babies on just formula or breast milk with nothing added to the milk. I received this at no cost to me from WeeSpring Parent Panel in exchange for my honest review.</span> <div class="bvseo-pubdate">Date published: 2019-05-15</div> <meta itemprop="datePublished" content="2019-05-15" /> </div> <div class="bvseo-review" itemprop="review" itemscope itemtype="http://schema.org/Review" data-reviewid="1061953411"> <span itemprop="reviewRating" itemscope itemtype="http://schema.org/Rating"> Rated <span itemprop="ratingValue">5</span> out of <span itemprop="bestRating">5</span> </span> by <span itemprop="author" itemtype="http://schema.org/Person" itemscope><span itemprop="name">Aamaks</span></span> from <span itemprop="name">Perfect and Simple Anti-Collic Bottle/Nipple combo</span> <span itemprop="description">When I was offered the opportunity through the weeSpring parent panel to test the Phillips Avent anti colic bottle, I was very excited. I had to buy new bottles with my second baby and didn&rsquo;t like all the parts that other brand anti colic bottles consisted of. But this bottle was only one additional piece (that was really easy to rinse and keep clean) and worked just as well as the original Phillips Avent bottle. I received this bottle just as we were transitioning the 6 month old to a faster flowing nipple and it was nice to have options to switch between a slower and a faster flow depending on her need and mood. The baby seemed to have less gas and didn&rsquo;t spit up as much after her bottles when we used the anti-colic bottle to feed her. Our baby was never collicky, but did spit up A LOT, so any relief from that was incredibly beneficial. But, I will say I was slightly confused on the orientation of the bottle and how to hold it in order to make it most effective. My husband figured that one out and it wasn&rsquo;t a tough adjustment. In short, if I had to recommend a bottle, this would be it. The plastic version is easy to hold, incredibly easy to clean; all important factors for me when you&rsquo;re feeding the baby 4-5 times a day.</span> <div class="bvseo-pubdate">Date published: 2019-05-14</div> <meta itemprop="datePublished" content="2019-05-14" /> </div> <div class="bvseo-review" itemprop="review" itemscope itemtype="http://schema.org/Review" data-reviewid="1061953464"> <span itemprop="reviewRating" itemscope itemtype="http://schema.org/Rating"> Rated <span itemprop="ratingValue">5</span> out of <span itemprop="bestRating">5</span> </span> by <span itemprop="author" itemtype="http://schema.org/Person" itemscope><span itemprop="name">AlexandraA</span></span> from <span itemprop="name">Great product</span> <span itemprop="description">My baby loves his Philips Avent Anti-colic baby bottle! We received this bottle free for review from weeSpring Parent Panel but all opinions are my own. This bottle has reduced my baby&rsquo;s colic, fussiness and he has not spit up as much!</span> <div class="bvseo-pubdate">Date published: 2019-05-14</div> <meta itemprop="datePublished" content="2019-05-14" /> </div> <div class="bvseo-review" itemprop="review" itemscope itemtype="http://schema.org/Review" data-reviewid="1061953413"> <span itemprop="reviewRating" itemscope itemtype="http://schema.org/Rating"> Rated <span itemprop="ratingValue">5</span> out of <span itemprop="bestRating">5</span> </span> by <span itemprop="author" itemtype="http://schema.org/Person" itemscope><span itemprop="name">DValbuena702</span></span> from <span itemprop="name">No need to poke holes!</span> <span itemprop="description">Thank you weeSpring Parent Panel for sending me this awesome bottle to try! My LO is 9 months old and nurses when she's with me and then takes a bottle with expressed milk when I'm at work. This bottle was very good. I loved that it had a fast flow nipple and didn't have to poke extra holes in it like I've had to do with other bottle nipples. My MIL tried both options with the attachment and without. She noticed my LO slightly less gassy with the attachment. What was nice about this bottle is that it fit nicely and warmed up quickly in the bottle warmer that we have.</span> <div class="bvseo-pubdate">Date published: 2019-05-14</div> <meta itemprop="datePublished" content="2019-05-14" /> </div> </div> <script type="text/javascript"> if (document.getElementById('bvseo-reviewsSection')) { document.getElementById('bvseo-reviewsSection').style.display = 'none'; } </script> <!--end-reviews--> <!--begin-pagination--> <ul id="bvseo-paginationSection"> <li class="bvseo-paginationItem"><a class="bvseo-paginationLink" href="https://www.babiesrus.ca/en/Philips-AVENT---BPA-Free-Classic--Fast-Flow-Nippe---2-pack/25449B6E.html?bvstate=pg:2/ct:r">Philips AVENT - BPA Free Classic+ Fast Flow Nippe - 2 pack Reviews - page 2</a></li> </ul> <!--end-pagination--> <ul id="BVSEO_meta" style="display:none!important"> <li data-bvseo="bvDateModified">y_2022, m_7, d_5, h_21</li> <li data-bvseo="ps">bvseo_bulk, prod_bvrr, vn_bulk_3.0.32</li> <li data-bvseo="cp">cp_1, bvpage1</li> <li data-bvseo="co">co_hasreviews, tv_1, tr_96</li> <li data-bvseo="cf">loc_en_CA, sid_25449B6E, prod, sort_[SortEntry(order=SUBMISSION_TIME, direction=DESCENDING)]</li> <li data-bvseo="diagnostics">clientName_toysrus-ca</li> </ul> <!--end-bvseo-reviews--> <ul id="BVSEOSDK_meta" style="display: none !important;"> <li data-bvseo="sdk">bvseo_sdk, dw_cartridge, 18.2.0, p_sdk_3.2.0</li> <li data-bvseo="sp_mt">CLOUD, getReviews, 5ms</li> <li data-bvseo="ct_st">reviews, product</li> </ul>
<ul id="BVSEOSDK_meta" style="display: none !important;"> <li data-bvseo="sdk">bvseo_sdk, dw_cartridge, 18.2.0, p_sdk_3.2.0</li> <li data-bvseo="sp_mt">CLOUD, getContent, 16ms</li> <li data-bvseo="ct_st">questions, product</li> <li data-bvseo="ms">bvseo-msg: Unsuccessful GET. status = 'ERROR', msg = 'Not Found.';</li> </ul>
SKN: 625442
Free Store Pickup
Home Delivery
Get it Fast
In-Store or Curbside: Ready in ~4 hrs.
Have it Delivered
Must be home for delivery by DoorDash
Not eligible for Same Day Delivery -
Ship it
Arrives in 6-10 business days
Currently Credit Card is the only form of payment supported for pre-orders.
Free Shipping when you spend $99. Shop Toys"R"Us, Babies"R"Us and Rise Little Earthling in 1 easy checkout!
Sign up today for the AVENT instant Advantage card and Save 10% everyday